How to Make Smoothies
Free Download: Free Smoothies Recipe Ebook (pdf)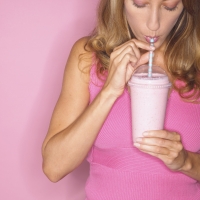 Basically, all you need to make Smoothies, is a blender and your imagination. It's something that kids will really enjoy, and can make up their own recipes. As long as they are old enough to use a blender safely, and responsible enough to clean up afterwards, it can be a great way for them to treat their friends, and enjoy a refreshing beverage in the heat of summer.

Smoothies work on a combination of flavors from fruits, and sometimes a contrasting fruit juice for a different taste. But be careful not to get too much juice in the blender, or it will be pretty soupy.

Your drink can be ultra smooth, or it can be slushy for extra coolness. The slush comes either from adding crushed ice to the blend, or by putting the drink in the freezer, just to the point where it starts to freeze, then taking it out and stirring the contents.

A good basic Smoothie for kids and adults, is Banana-Strawberry, which is a favorite flavor combination. A banana is also a fruit that will help thicken an overly wet Smoothie, if the flavor works with what you were already using. For banana-strawberry treats, fill your blender with two sliced bananas, a cup of non-fat plain yogurt, one cup of chopped fresh or frozen strawberries, one cup of crushed ice, and a touch of sugar or honey if needed.

Non-fat milk can be substituted for the yogurt, but it will be a thinner mixture. Or you can go for a taste sensation without a major liquid added, and blend cubes of cantaloupe, watermelon, and the juice of a lime.

And don't forget to download your Free Smoothies Recipe Ebook! (pdf)

How To Make a Breakfast Smoothie

You may be asking yourself, what is a breakfast smoothie and how do I even begin to prepare it? Well, you will be surprised to learn that a smoothie is simply fruits, soy milk or yogurt blended into a rich, nutritious breakfast drink. Do you want to know how to make a breakfast smoothie? Here are several ideas you can choose from, and the great part is - all you need is a blender.

Strawberry and Chocolate Smoothie
To your blender add:
1 cup strawberries (fresh or frozen)
2 bananas
2 tablespoons chocolate syrup
1 cup plain vanilla yogurt
Mix for 30 seconds or until smooth.

Cherry and Chocolate Smoothie
To your blender add:
3 bananas
2 cups cherries
2 cups chocolate soy milk (or regular milk)
Mix for 30 seconds or until smooth.

Blueberry Smoothie
To your blender add:
1 banana
¾ cup of blueberries (fresh or frozen)
¼ cup vanilla yogurt
¾ cup skim milk (or whole milk if it's for a child)
½ cup crushed ice
Mix for 30 seconds or until smooth.

Tip: To make these smoothies low in calories, just use fat free yogurt instead.

Now aren't these the simplest recipes you have ever come across? You know, you can also make smoothies for lunch as well as breakfast. Just substitute vegetables for a heartier, more nutritious lunch. Some examples are: a carrot and apple smoothie; a carrot, apple and celery smoothie, or a cucumber, carrot and celery smoothie.

There are various kinds of smoothies you can make. You can invent your own by combining different fruits and vegetables! The vegetable smoothies are great if you don't have time for a more traditional breakfast. Use your imagination; you never know – you may be starting a trend at home or at work by introducing a healthy way of eating to your family and friends.